Self-taught Richard had never tried his hand at painting and at the beginning he was a little unsure of his artistic ability. However people wandered into his studio and liking what he was doing began to buy his work. His reputation grew and he went on to exhibit not only in Loulé but in Estoril, Sta Cristina d'Aro, Barcelona, Madrid and Normandy. Richard died in 2008 having painted and 'sculpted' over 1000 pieces of work.. Much which was bought by local aficionados but also by visitors from all over the world
But to start at the beginning where all good stories begin, Richard C. Smith was born in Zimbabwe on the 5th October 1930 the son of a small gold mine worker/farmer and an Irish mother. Bright and creative and growing up in the small town of Gweru he went to the local school where apart from excelling academically he won prizes in the national Eeisteddfod for English prose and a song he had composed .
Having completed his schooling with distinction Richard went south to Rhodes University in Grahamstown in South Africa to read for a Bachelor of Arts degree in sociology and history. After graduation he was awarded a Rhodes Scholarship and spent three years at Baliol College in Oxford reading Juris-prudence. He was remembered by one of his friends as 'probably one of the most popular and loved undergraduates, athletic, academically bright and relaxed who appeared to do everything with little effort'.
Following Oxford and after a short stay in Canada he returned to Zimbabwe and as an attorney began practising law in Gweru. His style of legal practice was a little different to most lawyers as rather than encouraging his clients to spend money on litigation he would discuss a way forward which didn't involve the courts.

In 1963 he met Burford Hurry, an English lecturer at the Gweru Teacher's College and they became lifelong companheiros. Both being creative they built studios wherever they lived and where together Richard could work on his cement sculptures, mosaics or batiks and Burford could write, draw and paint.
In 1986 Richard and Burford decided to relocate to Europe, choosing to settle in the Algarve and by chance decided to buy an apartment and then an old manor house in Loulé. It was a decision that they never regretted.
Once settled Richard found and they then bought a six hundred year old building near the Bica Velha in Loulé with the idea of doing it up and reselling it. The building however had other ideas. For a while its large room with its flag-stoned floor and its gloriously vaulted ceiling was an antique shop. Then it fell empty and inevitably Richard was drawn to make use of its beautiful space.
Being very commonsensical he first got a carpenter to make a suitable work bench. Initially he started doing batiks as it was a medium he was familiar with and used the walls in the room to display them. The down side was that he found the whole process of making batiks rather exhausting so he decided to try to do some painting.
The situation was ideal as there was light and space enough for a small studio adjacent to the vaulted area where the metre thick walls kept the temperature equable. Never having painted before he did so with some trepidation. However as he had already decided that his paintings would be on wood or wooden furniture and framed in old existing frames he set to refurbishing or creating frames while he summoned up the courage to start painting . So in 1995 tentatively, with Studio 21 on the door, his journey began.

Once he had started it was something he grew to love. Every morning from Monday to Saturday he could be found in his tiny studio painting or working on his frames or a 'sculpture ' and only interrupted for a morning coffee break and chat in the local café with Burford and friends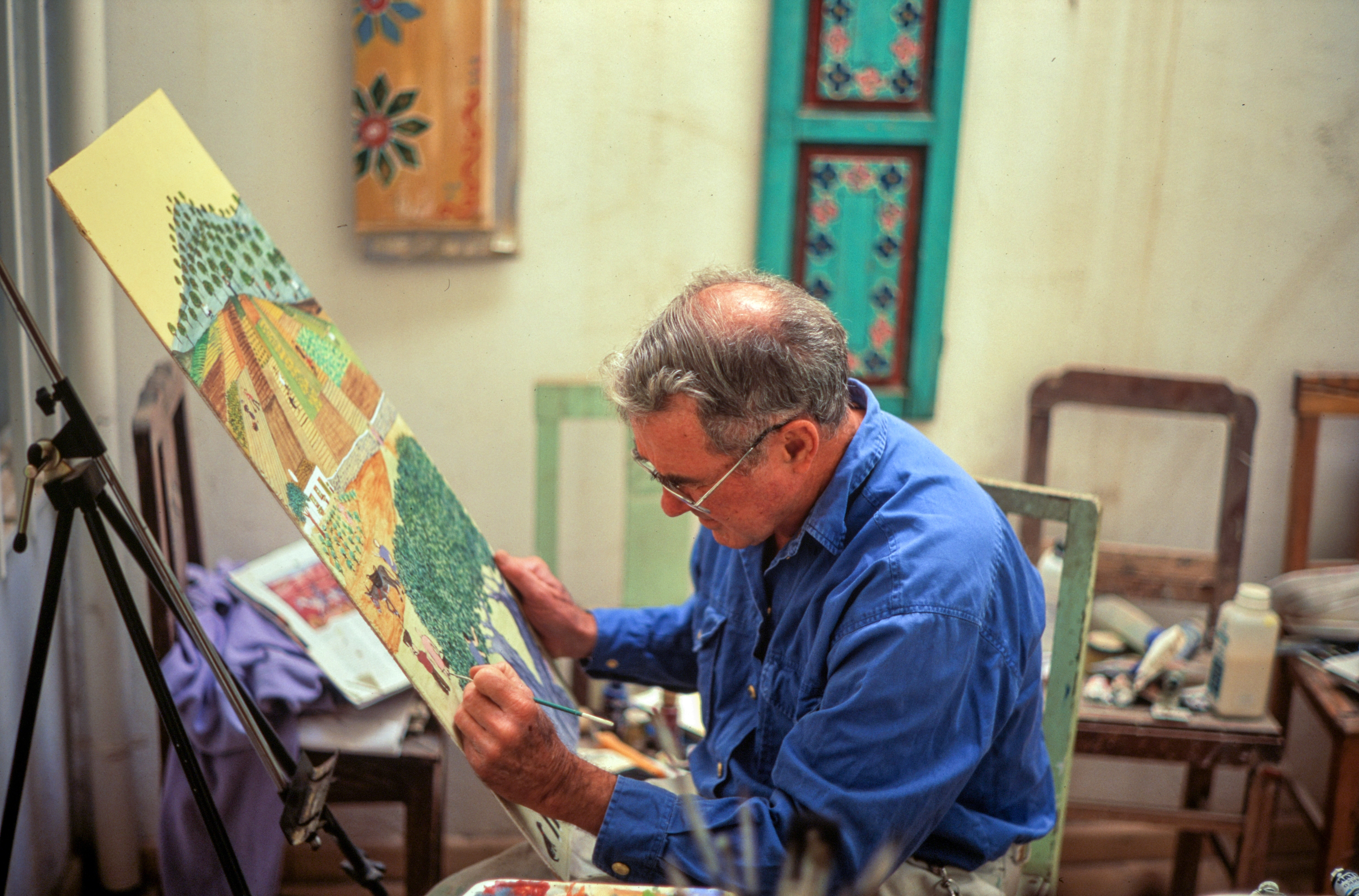 Recognition gradually followed. Dutch friends living on the Costa Brava in Spain so enjoyed his work that they persuaded Richard to have an exhibition in Santa Cristina d'Aro on the Costa Brava , Spain. There was a collective exhibition in Barcelona. A local but internationally recognised Naïve painter, Manuel Castro, wandered into the gallery and, impressed by his work eventually persuaded Richard to exhibit in the annual Naive exhibition in Estoril. Other exhibitions both local and international followed.
His idyll came to an end in 2008. Shortly after returning from a trip to the north of Portugal, having excused himself with his customary 'Gone Fishing' notice hanging on the gallery door, he fell while walking his beloved dogs. In doing so he broke a leg. There were complications and he died three months later.

After his death nine consecutive annual exhibitions of his work were held in his gallery. The small space of his studio with his chair and easel and clutter of paints, wood panels and wooden frames lay empty and unused .But the people who enjoyed and bought his work remembered that it was in that empty space that he created his yellow skies his shadowless houses and villages and people , his landscapes with the distant trees on hills, his dogs - all painted with his usual honesty, humour and imagination. No wonder then that in 2018 the Loulé camara gave this honorary Louletano a month long exhibition in the municipal gallery. Richard would have reacted awkwardly to the accolade: he never liked a fuss.